When talking about retail disruption the first name that comes to mind is obviously Amazon.
Amazon has indeed changed the face of retail and e-commerce; with its 2-day shipping service, inventory efficiency advantage, killer product search, personalised recommendations and excellent customer service, it is hard to compete with this omniscient retail giant, and understand what to do about it.
Compete or partner? Slowly evolve or change your business model all together?
There's no one answer.
But…
Here is how a couple of thoughts and business examples that have taken action and changed or will change the face of retail in the near future:
Using technology to improve customer experiences online & offline
In order to make customer experiences even more convenient, seamless and personalised, some businesses already have invested in tech to make chore shopping less time-consuming and cherish shopping more enjoyable.
Amazon again is pioneering this category with the launch of Amazon Go shops that allow you to pick up a grocery item and just go without physically paying at the till, by using mobile check in, deep learning algorithm, sensors & computer vision to remove cashiers and check out lines.
Tesco and Target have also invested in apps that allow you to order via Alexa and automate your frequent shopping via its AI or help you navigate yourself in store to find the right item using beacon technology.
On the other hand, pleasurable shopping is magnified thanks to AR technologies, as we can see with Neimas Marcus' memory mirrors that allow you to see yourself in an outfit 360 degrees and share your fitting room experience with everyone who's not physically there with you; or Ikea and as Houzz AR apps that help you visualise and place your new piece of furniture in your own home.
Social is also used to provide more personalised and conversational interactions between customers and in store staff. A good example of that is the Hero app which allows you to shop live and interact with sales associates from the comfort of your own home.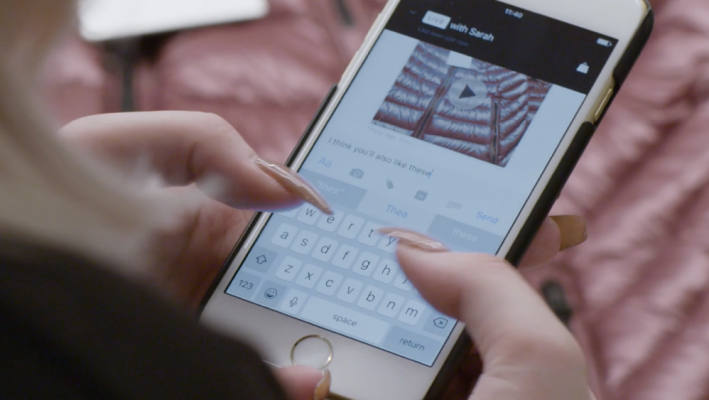 Trialing new business models to anticipate change
Another way to keep up with the ever changing face of retail is to stay flexible and trial new business models that are more aligned with new shopper desires and behaviours.
With smaller places to live in and a growing effort to reduce waste due to a better awareness of environmental issues, people will own less and rent or resell more. Ownership models will have to evolve towards repair/fix or access onlyrather than own models. This is already the case for the fashion industry that is seeing a growing number of businesses proposing alternatives to ownership such as Nudie Jeans repair shops which H&M is already on the edge of adopting with its Take Care approach and  Rent The Runway which proposes a subscription model where people can rent a look for a limited period of time and send it back rather than buy the whole outfit.
Also, like Liberty and its annually Designer Open Calls, AWayToMars's business model (which is about crowdsourced clothes designs and crowdfounded collections) is also an interesting take on disrupting the traditional clothing making arena by helping young designers and cutting production prices for them to enter the market and satisfy a new audience looking for more special items.
So what can we learn from these pioneering brands trying to disrupt the market?
That change is certain but doesn't mean traditional retail is dead all together.
People will increasingly shop online without denigrating retail and expect brands to recommend better products/services as well as making their experiences more convenient, seamless and pleasurable.
Here are Butterfly's e-commerce predictions & recommendations:
Prepare your business for voice commerce and what it implies in terms of pricing, deals and Amazon or Google partnerships.
Like the alcohol & spirit industry is relying on 'bar calls' to create shortcuts at the drink ordering point ("Can I have a Campari Negroni please"), brands will have to (re)name their products and brands in a distinctive and voice friendly way ("Ok Google, add Alpro almond milk to my cart please") to avoid being replaced by the cheapest or the on sale competitor.
Invest in new business ventures and/or partnerships that will augment or make your business model evolve and embrace change.
Like Marriott has taken part of its business from hotel chain to flat providers to undercut its growing competitor AirBnB, retail businesses will not only have to jump on the tech wagon but also evolve parts of their business models to meet customers demands and changing methods of consumption.
Invest in fun and valuable online & in store customer experiences to propose an ever more convenient and pleasurable way to shop – from curated showrooms to (online) retail-tainment.
Like the National Geographic's Retail Museum which provides a series of family-oriented indoor exploration centers, that will offer attractions, interactive demonstrations and hands-on workshops to kids ages 5 to 12 in China in an effort to educate & sales subscriptions.
Butterfly can help your business evaluate what the next big thing is for you via its range of concept testing methods including Huddle & Podium.