It's undeniable that the world is in a moment of significant change. As a global society, we have had to come to terms with the realities of our impact on the planet and rapidly shift our values and priorities to both encompass these truths and proactively brainstorm holistic change. 
Similarly, the business landscape has also been dramatically altered – an unprecedented global pandemic, rising inflation, the outbreak of war, and a rapid jolt into the metaverse – means that now more than ever, companies need to act urgently to create transformational growth within their business.
On 30th March, we were joined on our virtual sofa by three innovation powerhouses, Floris Cobelens, Director of Global Strategy & Innovation, Heineken, Koen Burghouts, Vice President & General Manager, PepsiCo and Thomas Fenger, Senior Director and Head of Product, LEGO. These thought leaders shared with us how they are redefining the business that they are in with stretch and breakthrough innovation.
Here's what they had to say…
Change your perspective from a caterpillar to a butterfly
Bianca Cawthorne, Butterfly Founder & Group CEO, kicked off the discussion.
"Flipping your perspective to have a longer and broader view of the marketplace means thinking beyond just what your business does to deciding what business you are in"
Much of our innovation tends to be limited and short-term focused. It's become another buzzword that's more about keeping up with competitors and stealing market share rather than being dynamic, driving key business growth or truly connecting with consumer needs. In fact, this archaic model for business thinking not only ends up harming your business by keeping it stagnant but also harms the planet, through excess and congestion. Truly sustainable growth "doesn't just make good business sense but is good for the planet and its people as well".

Stepping up to the plate and taking accountability for your business is paramount, especially in times and crisis and uncertainty. Consumers are looking for comfort, familiarity, and security which means brands need to be agile and responsive to change in a way that feels genuine and promotes long-term growth.
Re-define what business you're in
Core to the heart of sustainable growth is this shift in perspective. Our framework challenges you to think about your business in a new way – from what your business does to what business are you in – and reap the positive rewards of broadening your horizons.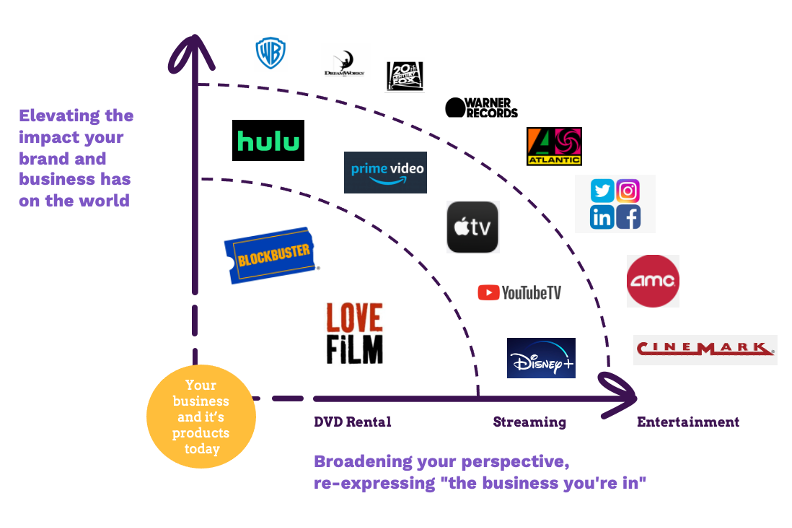 Butterfly London Director, Nicole Whelan, suggested using the job to be done approach and taking a keener look at what job (need), you're fulfilling in people's lives.
"When Netflix started, they were a DVD rental company but that wasn't the mindset they stuck with. They moved from thinking about DVDs to streaming services to ultimately choosing to focus on fulfilling anyone who has a need for entertainment. Pivoting to see themselves as an entertainment company reaped massive opportunities for new and diversified revenue streams".
For Netflix, becoming an entertainment company took them beyond the obvious of creating products and providing services into the realm of crafting experiences based on genuine need and emotion.
Centering on a need rather than a product-focused identity leads to monumental results. Although broadening perspective will increase competitors and introduce learning curves, it also opens the doors for infinite growth opportunities, a challenger mindset, and elevates your brand's social impact.
Think Future-Forward
Part of broadening your horizons includes taking a longer view of the future. According to Nicole, this is imperative for businesses to do to create sustainable and transformational growth.
 "Stop looking at silos and use a holistic systems approach to analyze change and define what that change means for the market and ultimately for your business"
The future comes to us in macro-forces that span the socioeconomic and the political and include technological change and the environment. Smart business leaders need to dig beyond each individual force and closely examine how they intersect within the market that houses your newly redefined business. This kind of analysis makes the future feel more tangible and more predictable.
Warren Minde, Head of Disruptive Innovation in Butterfly, challenged participants to do this analysis in real-time. By overlaying a macro-force with the new market definition (need), it's possible to uncover future implications for your market and business.
"The crucial thing is not to be tempted to say, 'what does this mean for my brand or business?' but rather to think outside-in on that market you've defined. How does this macro-force impact the 'world of smiles' or 'world of play', instead of solely thinking, how does this impact toys?"
Reframe your growth priorities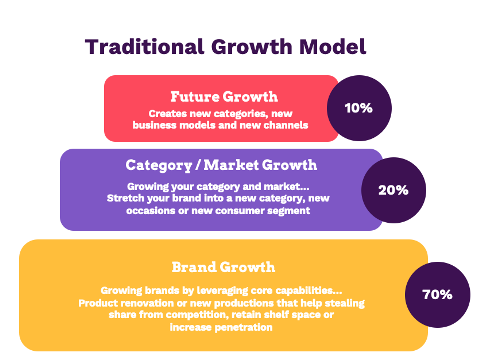 It's time we flip the 70/20/10 model on its head. A long-used strategic framework made popular by the Harvard Business Review, this pyramid tells us to focus the bulk of our innovation spend on brand growth and then category growth, leaving opportunities for sustainable growth through market disruption largely neglected and undervalued.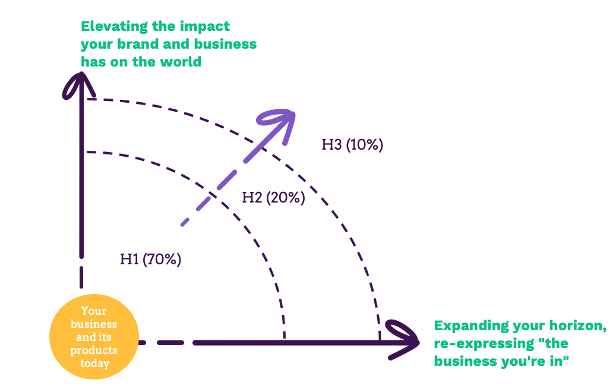 Nicole showed us how by changing the framework slightly, it becomes clear that Horizon One is limiting with only a finite amount of growth. However, stretching through to Horizon Three creates the vast potential for growth and elevates your business' social impact in a way that is sustainable for both the planet and commerce.
–
Bianca opened the floor to our panelists to weigh in on the importance of reframing your priorities. Koen encouraged the audience to start thinking of "the key elements to invest in the 70% to start building a sustainable platform to reach that third horizon."
"What we then do at PepsiCo successfully is leverage our great R&D capability on flavoring and texture and think of how we can take those capabilities and equity to potentially broaden our share of stomach".
Putting the key elements of the strategic framework together and reframing the way they approached growth was pivotal in Lego's transformation, explained Thomas.
"The key element of our growth was a move from being in the business of toys to the business of play and that enabled us to lean into facilitating new experiences, but it also opened new opportunities involving digital toys, the entertainment industry, and taking IPs… which ultimately drove demand and relevance for our brand".
Floris agreed that redefining the business is essential for growth not just to meet business objectives but also to meet the demands of our everchanging world.
"At Heineken, we have defined our purpose moving from the what (brewing beer) to the why, around social connections which is opening us up to move into new spaces".
To catch the full insights from this webinar, you can watch the full discussion below.
To learn more about how Butterfly can help transform your business – get in touch with the team at  bianca.cawthorne@hellobutterfly.com  and  nicole.whelan@hellobutterfly.com!