Over the past 12 months,

the world

ha

s

witnessed a remarkable acceleration in stakeholder engagement

centered

on sustainability.

This has required

businesses to broaden the

meaning and scope of

sustainability

and

re-think their traditional growth

model

for a holistic, sustainable

way forward

. 

 
The global mindset has shifted, a sense of urgency to act now is pervasive. Businesses recognize that they can only thrive if the communities and environment they operate or live in, thrive. Sustainability is at the forefront and businesses are adapting, looking to make meaningful and positive impact for the world, but also for their businesses.  
So, what does it mean to be a sustainable business? What will the sustainable businesses of tomorrow look like? How can businesses achieve sustainable growth that deliver value for the world and their business?  
On 2nd September, as part of Butterfly's summer webinar series on Sustainability, the team was joined by Alice Moore, Global Purpose Led Brand Building Director, Reckitt Benckiser and Kurt Frenier, VP, Sustainability and Hydration, PepsiCo. These sustainability leaders shared their vision and how they are driving sustainability inside Reckitt Benckiser and PepsiCo.   
Here's what they had to say… 
–
Being a sustainable business 
Butterfly Founder and Group CEO Bianca Cawthorne opened the discussion. 
"

If you don't have a sustainability plan, you don't have a business plan.

Sustainable business

es

need to be

Yes

–

And

-B

usinesses,

they

focus on today AND tomorrow, consider the ecology AND society, eliminat

e

harm AND do good."
Historically, businesses have shied away from implementing aggressive sustainability plans, citing impact on short term profits. This is no longer a feasible option as the current climate change trajectory and systems of consumption are not sustainable. Today, sustainable businesses factor in the importance of all intersections, orchestrating them into a holistic vision.
"

Sustainability is at risk of losing its meaning

, it is becoming more vulgarized, more of an open door for greenwashing

. We need to reframe it

and

consider

how

sustainability

impacts the business and how

we

do business

."
–
How to achieve sustainable growth
Maud Pernet, Director at Butterfly New York, gave her overview of what sustainable growth must look like from corporate to product level.  
"

Overall, sustainable growth

is about committing to a new paradigm as opposed to an incremental improvement of the old system.

Sustainable

growth

requires

authentic intentions at a corporate level

, shifting from lofty promises

and goals

to delivering tangible actions and roadmaps. At a brand level, brands must

solve forward

, not only solving for consumer needs, but also solving societal issues. We need to rethink our system of consumption at a product level, moving from selling more products to creating a system of consumption that does good."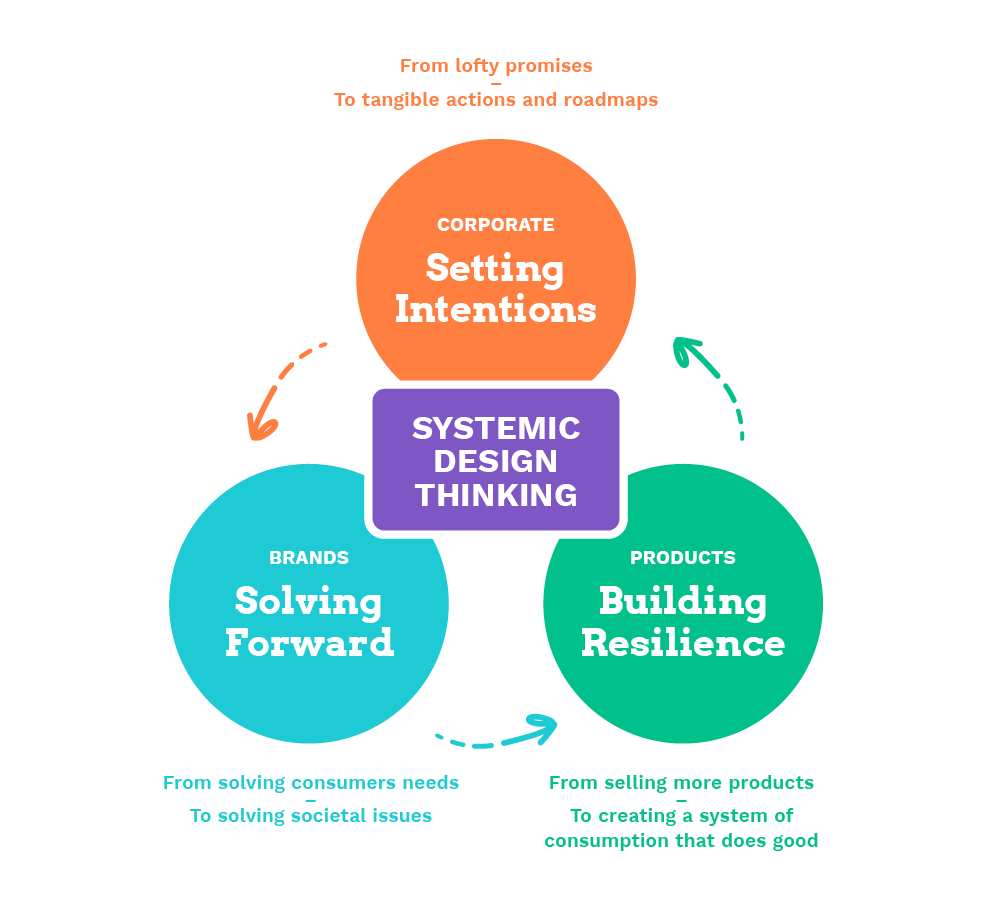 "

At the heart of it

all

is systemic design thinking, helping expand the vision and considering the whole picture. It is about consider

ing

what's next, but also what's after next. What is the entire system – cultural, ecological, commercial – that we are part of as a business, brand, and product? How can we be truly eco-effective and socio-effective in everything we do and design?

"
–
Instilling purpose in portfolio brands
Bianca Cawthrone invited Alice Moore, Global Purpose Led Brand Building Director, Reckitt Benckiser and Kurt Frenier, VP, Sustainability and Hydration, PepsiCo onto the virtual stage to share insights from their experience of implementing sustainability in their organizations.  
Alice Moore spoke about how and why Reckitt Benckiser tailors their portfolio brands to focus on defined sustainability goals. "Our aim is for positive societal impact, so each of our brands selects a United Nations Sustainable Development Goal. It can feel overwhelming when you are starting sustainability, given the different metrics and focuses. Should you focus on a plastic agenda? Loftier goals?"  
"We chose to start with the sustainable development goals because it gives each brand a single-minded approach to what they can do from a product perspective and a sustainably perspective at the same time. It gives our brands a north star to really focus on."  
Alice emphasized the need to move beyond focusing only on the functional benefits. "We need to make sure we elevate from a functional benefit into something bigger by giving our brands a role in people's lives that is a bit more helpful, more aligned to their values and what they want to see for their communities." 
 "Simply, we need to solve problems that are both for the consumer in their home but also for the society and the planet."  
When asked what the better way forward was: (1) each portfolio brand actioning the whole corporate sustainability agenda, or (2) each brand actioning a part of the agenda. Alice argued the latter, explaining "We have a very wide group of different problems we want to solve – sexual wellbeing, hand washing, dish washing, pest control, etc, so to try to have one goal to fit all of these won't deliver us that ambition. We want to break it down in ways in which each brand can have those north stars that have a positive societal impact. " 
Kurt argued that these two options are not opposing, and what is more important is that the actions are authentic. "First of all, these two go hand in hand. They are not opposing objectives. It is important to ensure whatever you put forward is really happening. You have to have clarity at the top, good goals and make a commitment so you're held accountable, that's the start. And then figuring out, with the right expertise how you are going to deploy this in your organization both from the operational side, as well as on the consumer facing side." 
–
Ensuring your goals are ambitions but not lofty
Kurt discussed PepsiCo's corporate vision and how they are driving their vision throughout the organization. "Our vision is creating more smiles with every sip and every bite. We aim to grow as a company but with purpose, looking at what our role is in the world. We are the second largest food and beverage company, and we recognize we have to do more than selling our products. Two years ago, we appointed our first chief sustainability officer who owns this agenda and can galvanize the energy and resources inside the company. 
Goals are essential, but Kurt highlighted the importance of being prepared and structured to ensure your goals are not lofty, but ambitious.  
"Sustainability is a daunting task these days because so many things have to happen all at once and there is a financial cost related to that. There is a balancing act to serving the bigger corporate goal, serving the brand goals, and in the meantime getting organized to make sure you are not making lofty commitments." 
"Now is the time for courageous leadership, to put ambitions out there that you might not know the exact path yet. You have to have the faith that you will be able to figure it out and the big unlock is creativity. There is tremendous breakthrough, out of the box thinking that is leading to big changes. 
Building off Kurt's point about costs, Alice remarked, "There are some opportunities in terms of cost, for example a reduction in materials will give you some cost savings. The more we can come together as an industry to encourage recycling will enable us to do proper circular design, and you will then have a lower cost base. There are some mid to long term benefits of doing these massive corporate, cross industry actions."  
"L

et's not forget

that

we are

all about growth and winning, but we

need to

look into what role we play in society and what impact we have on the planet, and how can we leave the planet better than we found it.

"
To catch the full insights from this webinar, you can watch the full discussion here  
To learn more about how Butterfly can support your business with sustainability – get in touch with the team at bianca.cawthorne@hellobutterfly.com and maud.pernet@hellobutterfly.com