Greenwashing. Pink-washing. False allyship.
Over the last few years, we've borne witness to the rise of brands incorporating "purposeful" messaging into their comms, campaigns, and even annual reports. All too often, however, the newly revised slogans, hastily written "we stand with" tweets, and stock photos of diverse bodies is as far as their activism goes. In this time of deep-seated social unrest, with our democracies, civil liberties, and rights to freedom and identity, under fire on a global scale, purpose-washing simply isn't enough.
On May 12th, we sat down to discuss how brands can stop talking about brand purpose and start building holistically good businesses. We were joined by a fantastic trio of panelists who are actively ingraining true social impact into the hearts of their business: Alice Moore, Global Purpose-led Brand Director at Reckitt, Theodora De Souza, Director of Lifestyle Category Brand Hospitality & Development at Hilton and Christina Habib, Beauty & Wellbeing Chief Insights Officer at Unilever.
Here's what we discussed…
It's Time to Go Beyond
Bianca Cawthorne, Butterfly Founder & Group CEO, kicked off the discussion.
"Businesses now actually must go beyond the words they say into having a positive impact in the world around us. It needs to go beyond what a business says about itself into burying it into the culture and leadership [of a business]."
To cut through the noise and really drive societal impact, brands need to talk less and do more by showing up in the world in a meaningful and authentic way. Being a positive actor in today's world requires ingraining purposeful behavior into your brand in a way that is wholly reflected in your leadership, culture, policies, and people. Going beyond this "purpose on a page" thinking requires thoughtful choices and discussions on how to elevate your positive impact and become holistically good.

The process of becoming a holistically good business isn't a straight line; instead, it's an engaged process of becoming that should be revisited and adjusted for continuous growth over time. This approach should encompass everything you do – from the product and its experience to the role your business has on society and the impact it has on the planet.  At Butterfly, we believe that there are four main steps to getting there:
Tend to a good seed: recognizing and stewarding your inherent value
Taking stock of your impacts: acknowledging the good you've done as well as the potential harm you've caused
Learning from the grassroots: partnering with movement builders and leaning on their cultural intelligence
Activating in irresistibly good ways: Finding unique ways to tell your brand story and values in ways that feel engaging and exciting
Tend to a Good Seed
At the heart of being a holistically good brand, is truly defining the core of what and who your brand is. Getting into the nitty gritty of identifying your business' north star – what impact do you seek to have on people and the world at large – should feel both organic and ambitious. Often, it requires understanding the original motivations and passions that the business was born from and scaling that up to meet the needs of today's rapidly evolving global context.
Butterfly Director, Philipp Mirow, made it clear that to define your company's purpose, you need both introspection and follow-through:
"What we're saying, is that having a purpose on a page is not going away – you still need one of those, but you also need a point of view on the world that gives your brand a true purpose. Most businesses have failed at purpose because they're stopping at the great idea but not following it through."
Tending to your business' good seed will serve as a well-defined starting point that can be leveraged as a springboard in the process of evolving into a holistically good brand.  
Taking Stock of your Business
Part of supporting your brand's follow through includes probing deeply to take stock of your business. This shouldn't just happen once. It can and should be an ongoing method of assessing where your business is truly excelling at contributing to a more beautiful society, as well as examining where your impacts have been harmful rather than generative. By taking an inventory we can see more clearly our future pathway to becoming holistically good – we can identify where we can amplify our positive impacts and where we can mitigate harm caused.
Sarah Capers, Butterfly NYC Director, suggested taking stock of your business by using a focused lens such as the United Nations' Sustainable Development Goals (SDGs) to identify areas of growth.
"Looking at your business through the lens of the SDGs is useful to see where we're excelling, we can also see where maybe harm has been caused and we can identify arenas where it could be important for your business and for our future as we become more holistically good."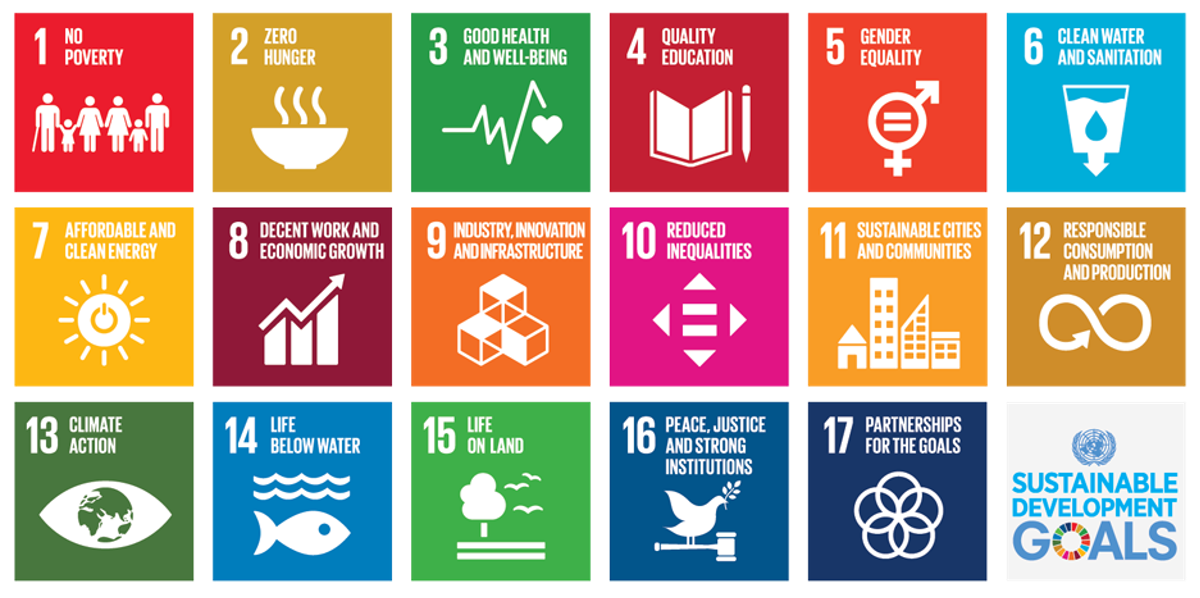 Many businesses have already adopted the SDGs as a starting point for Purpose work and often select a specific area of emphasis to work within. We encourage brands to go beyond just their core focus to look at these key global issues through a holistic, intersectional POV that weaves your business' purpose through multiple arenas such as impact on climate, contributions to health and wellbeing, supplying fair labor, and much more. While the SDGs are a fantastic and valuable resource, it's equally important to acknowledge and be mindful of their limits.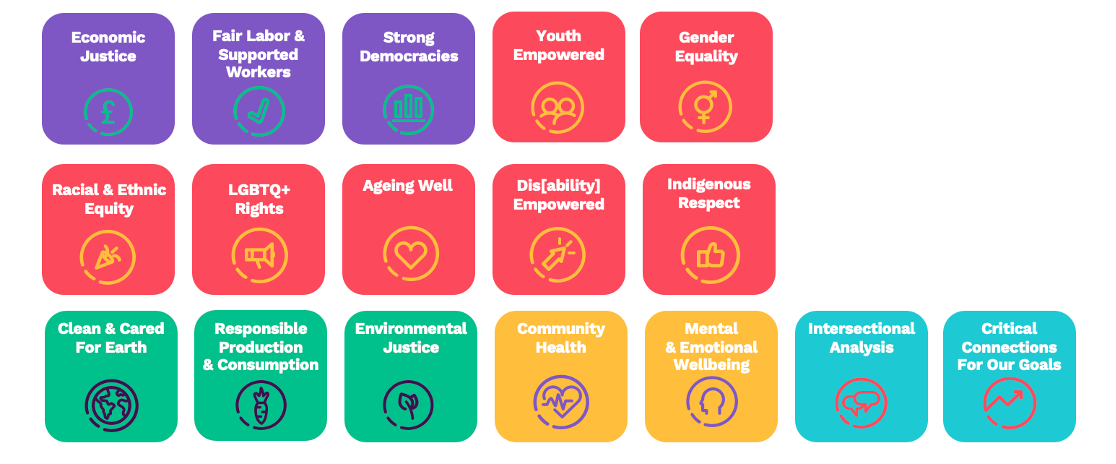 At Butterfly, we've begun the process of drafting our own set of Sustainable Growth goals that foregrounds the importance of empowering marginalized communities.  Although this list is by no means exhaustive, we hope it can help find ways of prioritizing greater, more sustainable societal impact in a more holistic way.
Learning from the grassroots
Once you've identified your north star and assessed your business for both positive and negative impacts, it can often be difficult to think of tangible next steps to course-correct, gain education on key social issues or invest in net-positive growth opportunities. Part of being holistically good is about understanding that you can't be an expert in everything and turning to grassroots movement builders for guidance, wisdom, and inspiration.
Sarah reminded us that that is a win-win for both brands and activists as:
"Partnership is paramount here, and we cannot build a better world alone, so businesses need to fund, and amplify, and support and listen to grassroots leaders."
In doing so, our businesses have the potential to grow and evolve into something truly transformational that the world really needs, rather than what we "think" it needs. Brands like Patagonia have been doing this since its inception by supporting and partnering with a broad network of local organizations that draw the company's attention to the most pressing issues concerning the planet and set the stage for the brand's future activations. By amplifying the voices, lived experiences, and efforts of others, we become active participants in an ecosystem of positive change for the world.
Activate in irresistibly good ways
The last piece of the puzzle ties it all together. Social issues like civil rights and global warming can often feel overwhelming and heavy but strong brand purpose driven by irresistible experiences and activations helps to make doing good feel great.
According to Philipp, this means leveraging a 360° brand experience that goes above and beyond to bring people into the good you are doing and have them become active participants.
"Brands have a responsibility and an ability to create enticing entry points for their consumers to create badges of honor or otherwise make it easier for consumers to do their bit which can really help narrow the values action gap and bring them along in the journey of building a better world."
So many businesses that find purpose a challenging arena, are actually already doing amazing, holistically good things but are just not activating them in a way that awes and inspires.
How are our clients developing holistically good brands?
Bianca opened the floor to our panelists to share their perspectives on how to be positive actors in today's world.
Alice championed the importance of taking stock of your business and how using a tool like the SDGs can help to shape overall business strategy.
"At Reckitt, we're using the SDGs to first of all define the strategy and define the purpose. The word purpose is just a choice, it is just which area do we think we can be most helpful in and then from there, how do we start to build that into our innovation strategies and all of the different parts of our business."
Christina agreed that at the heart of it, being a holistically good business isn't just about instilling purpose in your brand marketing but actually, by tending to the good seed and aligning your values, it becomes a larger principle that drives sustainable growth.
"Our strategy is founded in three big beliefs: companies that work with long-lasting purpose will be able to deliver sustainable growth, brands with purpose will grow and brands speaking with purpose will thrive."
Finally, we were reminded by Theo, that part of ensuring that this well-defined purpose lives on, means partnering with relevant, grassroots experts to create truly excellent and engaging content that resonates in feel-good ways.
"My mission is that your purpose becomes almost muscle memory and by really distilling those big purpose statements and making it into tangible ideas and actions, it really integrates, almost like an ecosystem. Remember that purpose is a living and breathing partnership across everyone."
To catch the full insights from this webinar, you can watch the full discussion below.
To learn more about how Butterfly can help you elevate your social impact – get in touch with the team at  bianca.cawthorne@hellobutterfly.com  and  philipp.mirow@hellobutterfly.com!