As the first generation to immersed into technology for the entirety of their lives and raised amongst natural disasters, financial crashes and now a global pandemic – Gen Z's are unlike any of the generations before them. 
To better understand this cohort's needs, we must take a holistic approach and consider the external factors that have molded this collectively bold, expressive, and vocal generation.
On September 16th, as part of Butterfly's summer webinar series, the team were joined by Magda Nowrot, CMI Lead for, Heineken Global. These industry leaders shared learnings from their extensive work in understanding and connecting with Zellenials.
Here's what they had to say…
–
Generational identity – the environmental factors that molded them
Butterfly Founder and Group CEO Bianca Cawthorne kicked off the discussion with a quote from Dr. Morris Massey:
"What you are is where you were when" Bianca went on to explain the Massey Model, "He says that how we develop who we are – we're not born with that, we develop our values through the experiences that we have. The type of experiences we have throughout our life will shape how we are and who we become."
According to Massey's model, there are three key phases that define how a generation is collectively molded; The Imprint, Modelling, and Socialization phase. During the Imprint phase, which takes place from ages 1-7, a generation takes in the world around them like a sponge, as defined by previous generations. Every experience in this stage is taken literally where people develop a sense of right and wrong and build their foundational understandings. During the modelling stage, which takes place between ages 8-13, we tend to copy the behavior around us and everything we see – much of this is copied from figures of authority (parents, teachers, etc.). In the Socialization stage, ages 14-21, people break away from the patterns in the first two phases and seek to find people like them, turning to their peers.
Bianca then took the team through the fundamentals of The Strauss & Howe model, which dictates that there are four key archetypes of generations that continue to repeat throughout history, highlighting the somewhat cyclical nature of external environmental changes.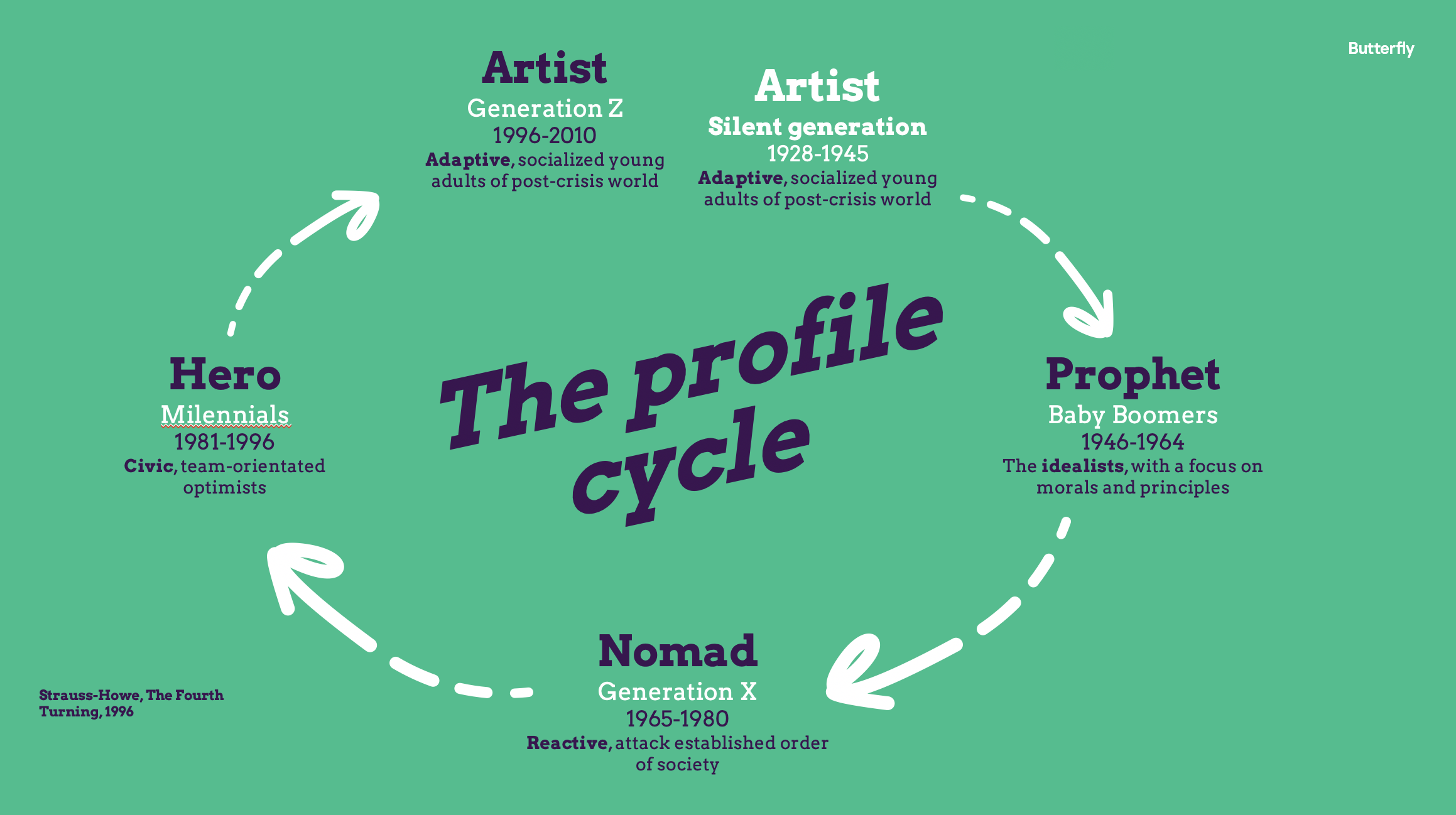 As the next generation of 'Artists,' Gen Z will replace 'The Silent Generation' (Millennials). This cohort will go through what is referred to in this model as "the fourth turning." A period of crisis and great change.
Through the use of both of these models, we can begin to analyze patterns and behaviors across generations and predict where Gen Z's future may take them.
–
Values over everything – how does coming to age during COVID impact that?
Philipp Mirrow, Director at Butterfly London, gave his overview of the values that define Gen Z's drivers, motivators and core instincts.
Gen Z's core values below will determine how they navigate the great period of change referred to by the Strauss & Howe model, The Fourth Turning, and how they continue to make purchasing decisions.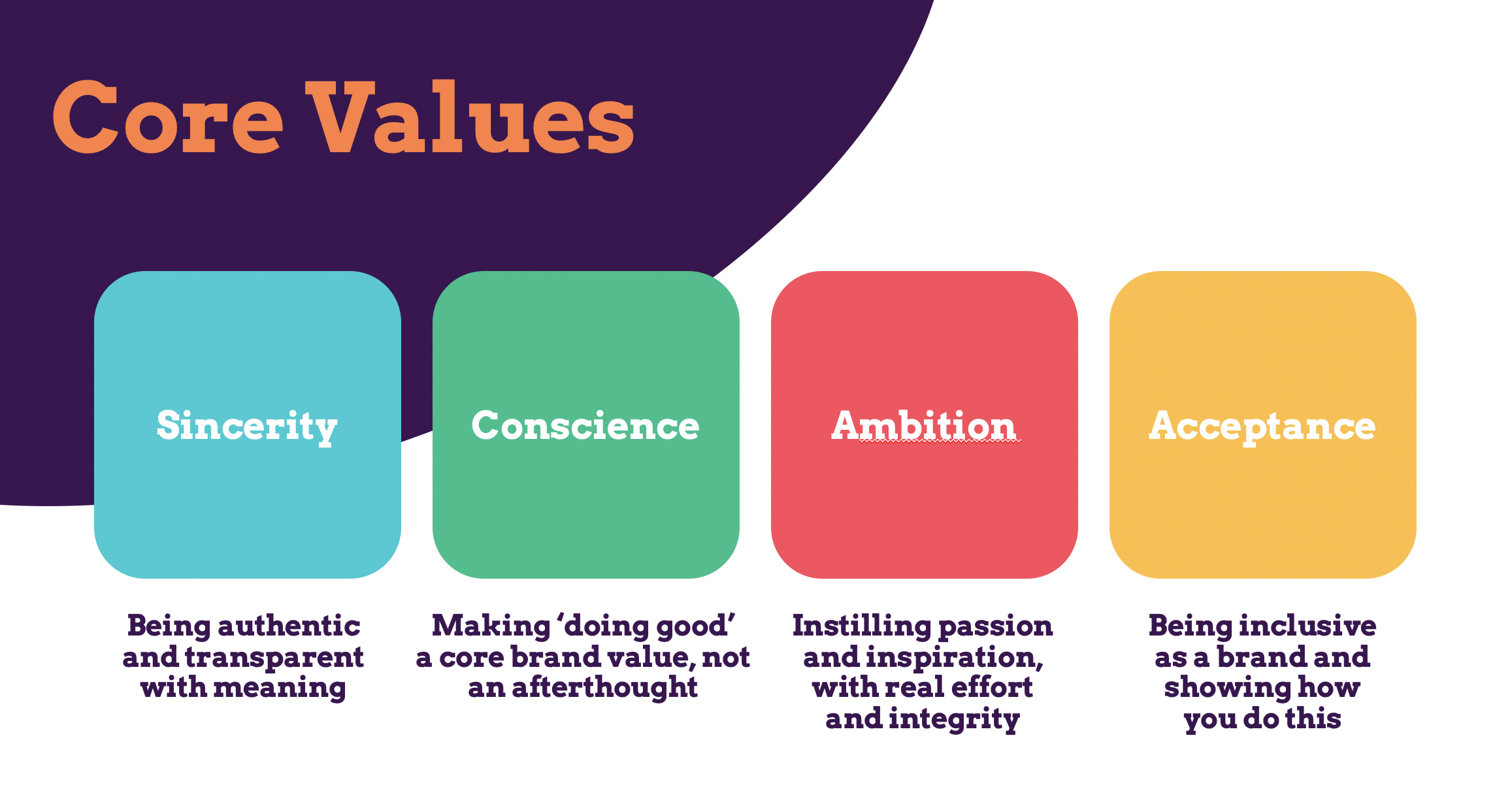 Philipp explained that these core values, mapped across the different stages of the Massey Model and the Strauss and Howe model, can give us an accurate picture of where Gen Z is at right now and true, rich understanding of how they have been impacted by the COVID 19 pandemic over the past 18 months.
"Nearly 50% of Gen Z state the lack of their mental decline being due of a lack of real in-person face to face interactions with friends and loved ones." Phillip went on to explain that according to the Massey model, the period of socialization cannot be artificially emulated or constructed, it must be experienced in real life.
He also added that it's not all bad, that this generation is brimming with hope and excitement, "Without real life role models to look up to and sharpen their emotional intelligence the cohort feels distanced and removed. But with an unexpected twist in things, it's not all doom and gloom for this group… this distancing has opened up new doors. It's encouraged them to find entertainment elsewhere." and as a result, "they've been embracing their hobbies and their passions. Many of which were only picked up during lockdown. And this pursuit of this hobbies, combined with the more fluid workings structures – both in education and employment settings – has really given them the opportunity to pursue these passions in new ways."
So, what we're seeing, is a real increase in Zellenials that want to follow their hearts and want to go after their hobbies as professions. It's led to a rise of ambition shining through as part of this generation's cultural identity.
–
The importance of connecting with them today to harness their power tomorrow
Bianca Cawthorne invited Magda Nowrot, CMI Lead for, Heineken Global onto the virtual stage to share insights from their experience of connecting with Gen Z now, even though only a small percentage of them are legally able to engage with their products, to harness their power for the future. Here's what Magda shared with us:
"As any young generation, we do recognize that they are shaping the aesthetics of pop culture, the fluidity in how they see the world, their hybrid lens on everything around them is really shaping what those aesthetics are and in turn what is shaping pop culture… across all generations" Magda went on to say, "Absolutely, we feel that they [Gen Z] are bringing the disruption. So in order to be prepared to scale our future consumer base, we wanted to really know what changes they will bring."
Our audiences participated and nearly 60% of them shared the belief that Gen Z would bring forth the end of the 9 to 5 working week. Bianca shared her thoughts on how that will change the playbook for occasions.
"They are going to be huge opportunities but also challenges. If you throw out the structure, then new structures, and probably more personalized structures will come up and take their place."
To close off, Magda reaffirmed her belief that brands, like hers, need to work closely to understand Gen Z as the rest of the cohort continues to come of age in the various phases of Imprint, Modelling, and Socializationto navigate The Fourth Turning. Ultimately, this will inform brands' understanding of future purchasing decisions and how to begin approaching loyalty in this highly experimental generation.
"Disruption is coming. Big time. Fluidity of the worth, of the occasion, is dictating that Gen Z have a much broader spectrum of products in their repertoire and indeed are very open." Magda went on to finish, "They are very open. It's not easy for any brand to gain their loyalty because they want to experiment and it's not only because they are young an want experimentation – this is already a part of their DNA. They are digital natives, for them everything is available they have the feeling of the freedom of choice."
To catch the full insights from this webinar, you can watch the full discussion here
To learn more about how Butterfly can support your business  – get in touch with the team
at  bianca.cawthorne@hellobutterfly.com  and  philipp.mirow@hellobutterfly.com